This is the memo declaring the new "official policy" at NIU regarding accessibility to the campus computer labs. Please bear in mind as you read this memo and my story that the date on this memo is August 6, 1991, and I didn't make my first request for access to the Geography computer labs until June 23, 1994
In case you are having trouble reading this memo, I've typed out the body of it below. The reason I put the actual memo on this page is to show you that it exists, was issued on August 6, 1991, and that it was signed by NIU President John La Tourette.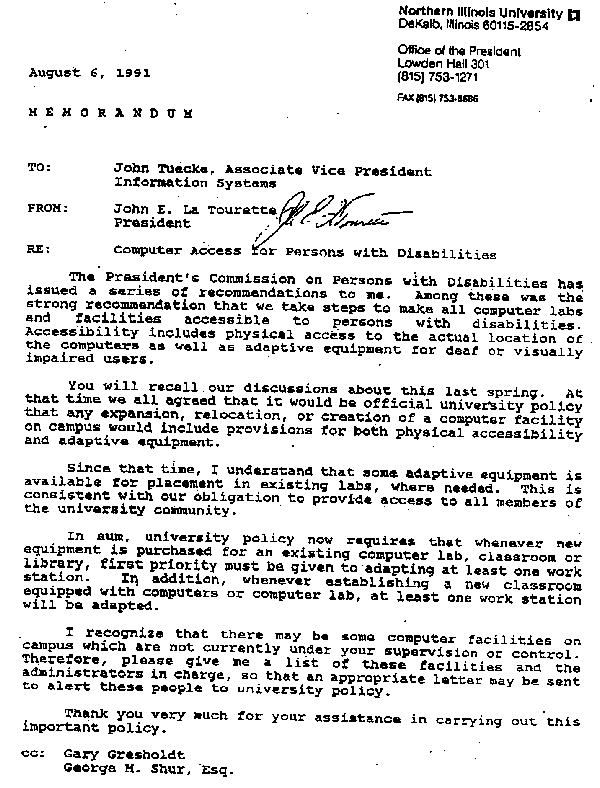 The President's Commission on Persons with Disabilities has issued a series of recommendations to me. Among these was the strong recommendation that we take steps to make all computer labs and facilities accessible to persons with disabilities. Accessibility includes physical access to the actual location of computers as well as adaptive equipment for deaf or visually impaired users.
You will recall our discussions about this last spring. At that time, we all agreed that it would be official university policy that any expansion, relocation, or creation of a computer facility on campus would include provisions for both physical accessibility and adaptive equipment. Since that time, I understand that some adaptive equipment is available for placement in existing labs, where needed. This is consistent with our obligation to provide access to all members of the university community.
In sum, university policy now requires that whenever new equipment is purchased for an existing computer lab, classroom, or library, first priority must be given to adapting at least one work station . In addition, whenever establishing a new classroom equipped with computers or computer lab, at least one work station will be adapted.
I recognize that there may be some computer facilities on campus which are not currently under your supervision or control. Therefore, please give me a list of these facilities and the administrators in charge, so that an appropriate letter may be sent to alert these people to university policy.
Thank you very much for your assistance in carrying out this important policy.
cc: Gary Gresholdt, George M. Shur, Esq.
Return To The "Disabilities at NIU" Page

Or, if you are reading this page from WAPD's web site, click the link below.

Return To "Points To Ponder" at WAPD

.